Dubai has a new forum for writers who like to share their work and network with other writers for peer review. The past few months, I had been working hard to start the Dubai chapter of Caferati - an international writers' forum with more than 1,500 writer members worldwide.
Early this month, Caferati Dubai had its first Read Meet - and boy, did we have our hands full with great writing to be shared.
Thursday evening. BurJuman. Writers. Coffee. Heaven!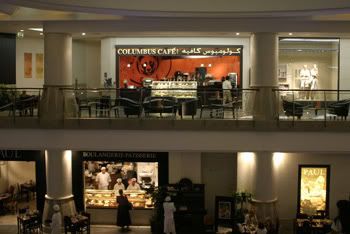 (The venue: Columbus Cafe, BurJuman, for the first Caferati Read Meet for writers in Dubai)
This is how the event goes...
Members have been kind enough to mail me what they plan to read. I also have printouts of work sent in by members who can not attend but want their work read. We decide that we'll all introduce ourselves as our turn to read comes. Many writers exhibit the coyness that comes with first times - for some it is the first time ever to read to a gathering of writers.
Rajesh Menon
breaks the ice and volunteers to go first. And here's a bite from how Rajesh has launched himself:
Perennial fly-on-the-wall. Bang in the middle of the statistic i.e. 30s, married, male, 1.43 cars, 4.7 gadgets, slightly right-of-center, rootless, liberal, professional, OK. I work for a living. Not that I like to. Groan. Right now, I manage sales in a large multinational. And been doing something similar all my working life. Old enough in this City: Can go without water for days. And I think I have a hump too...
Rajesh reads two of his 55-ers (55-word stories to the uninitiated). One is 'Butcher' and the other 'Friend'. 'Butcher' can send a steely shiver down the listener's spine. Kate remembers a French movie in which the protagonist is a butcher. The name of the movie sounds delicious - it starts with 'Delicatessen...". And somehow Anthony Hopkins comes to my mind right now... and lambs.
(MeeA reads her blog entry as Rajesh, me, Archana, Kate, Maliha, Mayura and Don listen)
MeeA Parkins
, my good friend from South Africa, who has just arrived at the venue is ready to jump right in, introduce herself and read her stuff. This is how MeeA describes herself and why she joined Caferati:
I'm a woman, a wife, a mother, a student and, sometimes, I remember that I'm a daughter, too. I'm a skeptic, a romantic, a mass of contradictions, a ball of insecurities, a fighter, a survivor, unfettered by any of these labels, yet chained to each in some way or another. Most of all, I am me and I am a writer, in my soul if not by experience. I joined Caferati because I recently decided to push the insecurities aside and allow myself to make the most of what is probably the closest thing I have to talent. And because I was invited to.
MeeA reads an untitled blog entry from her blog in which she describes one of the many beautiful moments she shares with her family "as a result of my mental instability". Her views as a wife, mother, writer come through quite well in her post about Bruce, the shark. The punchline, the climax of the post, is a hilarious picture. What fun!
We discuss how it's a creative way to have pictures to go with your writing. And Rajesh points out that it's also creative if "In the beginning was a... picture" and we write from there. Good idea, we agree, for a writing exercise.
Donald Nigli
comes next. He has been writing for 20 years now. After five books of poems, the first draft of a book of short stories "awaits a sabbatical and a rewrite". In the mean time, "a novel has also been knocking on the door". He has lived in 10 towns and cities three countries, and changed 19 houses. Donald's here at the Read Meet "to talk shop", and shares with us something he wrote when he happened to eavesdrop on a woman 'selling'. His poem "The Whore" is about the "thin line between love and lust" as he puts it. In this poem, Donald has used a technique where the last word of a verse can be read also as the first word of the next verse. He's got us intrigued as we examine the printed poem.
Donald tells us he has "discovered" three of his books on Amazon. He says even he wouldn't pay 13 Pounds for a book of his, the price that his book seems to be selling for, online. We laugh.
The spotlight now moves to
Maliha Raza
. Here's how Maliha likes to introduce herself:
I write autistic poetry for the listening ear - which in English means that I often write stuff which nobody understands. Been writing since I was about nine, mostly poetry, but 'graduated' to prose when i was around 16. I mainly write science fiction and macabre (Poesian style stuff). I also dabble in philosophy, humour and sometimes also academic writing which gets posted in journals with long names that end in a volume number.
Maliha has a published book of poetry to her name - also discovered on the internet by her long after she had written it at age 14. She's half way through her science fiction book of short stories.
Maliha reads the poem that has captured a lot of attention on the Caferati messageboard. Listening to the fiery poem read out by Maliha is a treat - the emotion is all there to feel. She also reads the poem "The Song of Job" - and we discuss the chant like rhythm in it, and the theological background of Job's story.
(Kate shares her opinion with Rajesh, Archana, Mayura and Don)
While some of us are particular about technique, some also feel that their poetry is too personal to be subjected to such analysis. I share how in advertising, writers are taught to "kill their babies" i.e. not to get too attached to our creative concepts - there is always for improvement. Donald later suggested to me that perhaps each writer could specify the kind of feedback they want before they read their piece. Made sense.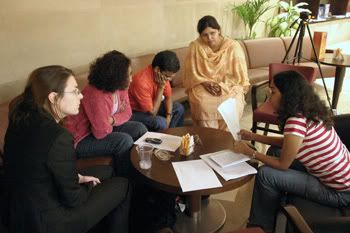 (Mayura reads our her poem to Kate, Maliha, Don and Sabiha)
Almost all the members at the Read Meet have read some of their writing.
Archana Menon
was reluctant to share her poem and has left by now but she suggested a venue called "Shakespeare & Co." which she says is quieter than this one. It also sounds like a good venue for writers.
Kate Godfrey
tells us her office is in that building. Now, Kate shared with us the good news that her first book (non-fiction) has just been released and is on Amazon. Kate belongs to a family of writers and we just can't wait to get a taste of her writing - for which we'll have to wait for the next meet.
Sabiha Majgaonkar
arrived towards the end - she was not aware of this Read Meet and so looks forward to sharing her writing in the next one.
There are a few minutes for me, Farrukh, to read some stuff. I don't want to keep people waiting too long because it is, after all, everyone's weekend, so I quickly read my 100-word piece called "Never The Elevator", which you can read in my earlier posts on this blog of mine.
The somber reading casts a gloomy spell and my writing is described as "haunting". Not a good parting note for the Read Meet, I feel. So I pull out a humorous article sent in by my travel writer friend
Anjali
, about her first horse ride. And we laugh and smile, rounding up the Read Meet by exchanging numbers and promises.
My apologies to our friends
Duaa
,
Mazhar
,
Maya
and
Max
- who had sent us fascinating work that we unfortunately did not get a chance to read. Duaa, who has published two books, had sent a gripping short story called "The Wrong Place". Mazhar, who is a veteran journalist working for one of the top news organisations here, had sent us the epilogue from the novel he is working on. Max had sent one of his adventure tales from Chennai titled "Looking At The Positive Side". We hope to have more writers and more readings in our next meet. Maya, one of the most active bloggers I know, is not well - we hope she gets well soon.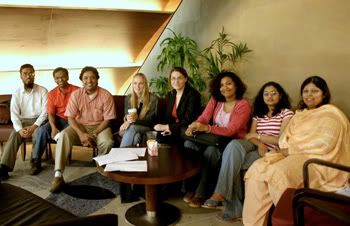 (Attendees of the first international Caferati Read Meet hosted in Dubai: (L to R) Farrukh Naeem (Dubai Chapter Coordinator), Donald Nigli, Rajesh Menon, MeeA Parkins, Kate Godfrey, Maliha Raza, Mayura Sandeep and Sabiha Majgaonkar.)
If you are in Dubai, and you write, and you still haven't joined us - what are you waiting for? A sign from God? This is probably it.
Mail me at
farrukh_copywriter@yahoo.com
or call me on
050-7151722
and I'd be happy to enlist you in our friendly and committed group of writers and wannabe writers. Trust me, we won't bite you - unless you like it ;-)
Suggestions, comments, feedback and publishing contracts for our members are welcome. Coffee invites will be entertained with open arms.